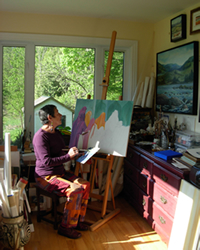 Artist Profile
Denise was born at Hampton Court, England and completed art studies with Erdmann Konig
in Munich, Germany. Her paintings in oil and acrylic and more recently the painted textile constructions have been exhibited extensively, both in Canada and abroad. Her work is currently held in private collections in Spain, Germany, Australia, England, Denmark, Switzerland, South Africa, Canada and the USA.

Artist's Statement
The colours, forms, landscapes and different energies that prevail in various places in the world in which I have lived and travelled have been a deep influence. Here in the Gatineau Hills of Québec,
I see the way in which mankind, technology and nature meet, and how forcefully nature works to create, heal, re-design and adapt to change. Destruction and decay lead to renewal, re-birth and beauty. This powerful cycle and message for survival gives me hope and provides a constant source of inspiration.

In my recent series of paintings and painted textile constructions I continue to explore and express the inseparability of humankind, nature, matter and the prevailing universal energies. The technique sometimes involves deconstruction of finished paintings and then weaving them into new entities.
I enjoy the challenge of incorporating other materials into my works and continue to find the symbolism intriguing. Sometimes the process translates into more abstract or surreal works, while at other times there remains a realistic portrayal of the more familiar.
The painted textile constructions also underscore the fragmentation of our world. They suggest that when the fragments are gathered and re-aligned, when differences are positively and openly embraced, boundaries are redefined and there is no limit to the positive changes that can happen.
I find this process both excitng and stimulating…it allows acknowledgement of the spirit and integrity of the original work, and yet at the same time signifies the positive energies and different perspectives that change can bring.
It is my hope that you will not only sense the joy and energy that goes into my work but will also feel uplifted by the rendezvous with nature, the inner spirit.and prevailing universal energies.


Current Affiliations
CRCO - Gatineau, Quebec
Harmony - Navan, Ontario, Canada
Moon Rain Centre - Poltimore, Quebec